The attribute system is designed to provide an additional way to affect the damage output of each character in both PvP and PvE, through the use of regular and skill attacks. There are 6 attributes in total – 4 to represent the elements of nature and 2 which are called alignment attributes.
Attributes are coupled together in mutually exclusive opposites, as follows:

FIRE

WATER


EARTH

WIND


DARK

HOLY

Attributes can affect both the attack and the defense of a character. For make that u need to use to attribute items.
Stones(0-60)






Crystals (60-120/300)





You can add attributes to your weapons and armor set pieces (excluding shields, shirts, belts, cloaks, accessories, headgears and so on). Only S-Grade and higher grade items can have attribute effects applied to them. When you apply attribute items successfully, you increase either the attack or defense attribute value of an item. Attributes applied to weapons add to your attack attribute value and those applied to armor pieces count towards your attribute resistance values in your stats window.

To apply an attribute item simply double click it while it's in your inventory.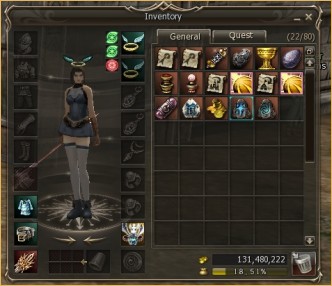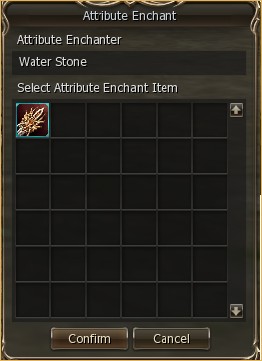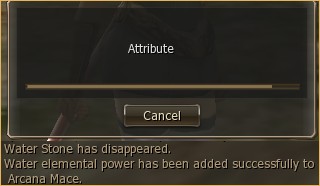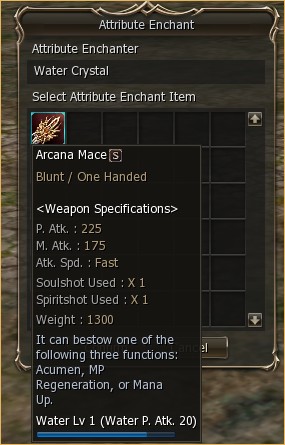 U can fail some apply

The maximum attribute value for a weapon is currently 300 and the maximum value of a single attribute on armor pieces is 120.
Attribute values are also categorized in levels, depending on the current attribute value on a weapon or armor piece. Attribute stones can increase the attribute values of weapons and armors up to level 3. Attribute crystals can increase the attribute above level 3 and up to level 6.
The increase amount for each successful use of attribute stones/crystals is 6 attribute points for weapons and 5 for armor pieces. The only exception to this is the initial attribute application to weapons that have no attribute. In that case, the first successful use of attribute stones on a weapon increases its attribute by 20.
The chance to successfully use an attribute item (stone or crystal) is not 100%. From my research and testing it seems to vary between 40% and 60%. One tip I can give is this: get a good amount of stones/crystals before enchanting your weapons/armors.
Weapon attribute levels go as follows, with the values for each level and the number of attribute items needed to reach the next level: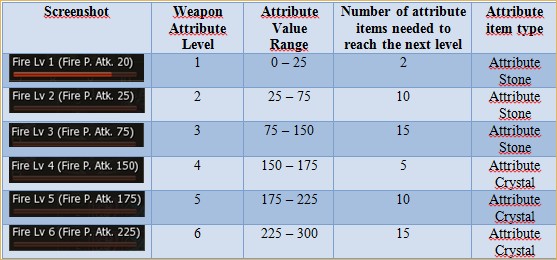 Maximum attack attribute value

armor piece attribute levels: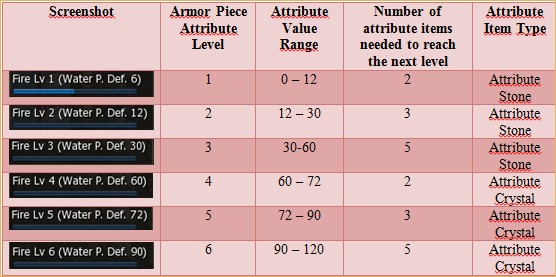 Maximum resistance to a an attribute:

Attribute exchange/cancel attribute
You have possibility for exchange one attribute for others but only this atri which are coupled together like I say before. If u add some attribute to weapon or armor and u want to change it, needs to cancel the existing one. Once the existing attribute has been deleted, a new one can be added.
Can make it this is two NPC
first is in Aden npc
Yin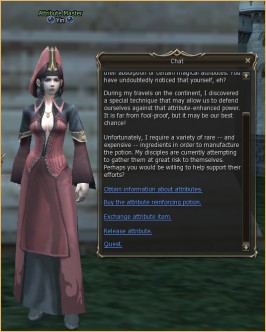 and second in Rune npc
Yang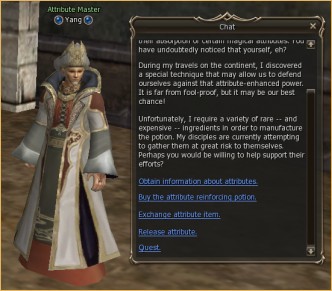 For example stone exchange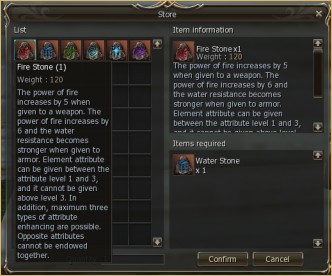 How to obtain elemental stones and crystal:
Stones:

In this chronicle you u can obtain stones for making 2 quest (one of them Containing the Attribute Power) and farm.
All stones u can get on
Hellbond
.
The best location on Hellbond are Chimeras because u can get there are attribute stones.
It is possibility to get some fire stone farming on Isle of Prayer.
Crystals
:

Attribute crystals you obtain from crafting. You need for this craft 20 essence on one type attribute and recipe. Each recipes u can buy from Officer Tolonis w Keucereus Base.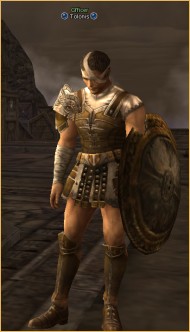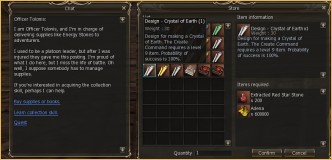 Esc you need to collect Seed of Destruction and Seed of Infinity. For collect esc u mast to have Collection Agathion.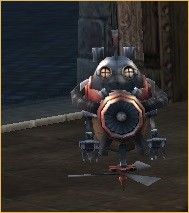 So I have only screen how look Essense because SoD is closed and it is hard to make anything